This
post
was originally published on
this site
Posted by Jay Remley, Director, Google Maps for Business
Editor's note: In today's digital age, information overload is a common problem, both in our lives and at work. That's why forward-thinking organizations are investing in map visualization tools to help them manage and use data more effectively. Read more about the six ways Maps are Going Google.
Data is critical for businesses, helping to steer day-to-day operations as well as future strategies. But when it comes to using data at work, there's a fine line between empowered and overwhelmed. Unless your team can analyze and interpret all the information available to them, they're far more likely to end up on the wrong side of that line.
According to a recent study* that surveyed 300 enterprise professionals, data of all forms — internal, external, structured, and unstructured — has grown by 38 percent over the past two years. With so much information […]
This
post
was originally published on
this site
Yahoo on Friday took its push into online video one step further. The company announced it has acquired Israeli startup RayV — whose technology will help Yahoo stream its new entertainment efforts to viewers.
RayV specializes in streaming high-quality video to online and mobile audiences on a large scale. The eight-year-old company's team will join Yahoo's research and development center in Tel Aviv. Terms of the deal were not disclosed.
The buy comes as Yahoo has aggressively moved into the online media scrum, with glitzy talent and content announcements. Most recently, the company said it would revive Community, a popular ex-NBC sitcom with a cult-like following. In April, it announced two 30-minute original series, including one helmed by Paul Feig, director of the film "Bridesmaids" and creator of the TV show "Freaks and Geeks."
In addition to those TV offerings, Yahoo announced in April a partnership with […]
This
post
was originally published on
this site
Everyone should have access to basic Internet services, Zuckerberg argued in a new Wall Street Journal op-ed.
Facebook chief Mark Zuckerberg this week argued that a basic level of Internet service should be as readily available as access to 911.
"In the future, everyone should have access to basic Internet services … even if they haven't paid for a data plan," Zuckerberg wrote in an op-ed for The Wall Street Journal. "And just as basic phone services encouraged more people to get phones, basic Internet services will encourage many more people to get a data plan."
He pointed to the fact that anyone can call 911 even without a phone plan. A similar option for the Web should also exist, he argued.
With two-thirds of the Earth's population lacking Web access, "connecting everyone is one of the fundamental challenges of our generation," Zuckerberg said.
The Facebook founder has already started to tackle the […]
This
post
was originally published on
this site
Microsoft fixed 29 vulnerabilities in Internet Explorer and supported versions of Windows as part of July Patch Tuesday. The lion's share of the vulnerabilities fixed this round were in Internet Explorer.
Of the six security bulletins released, only two of them—for Internet Explorer and Windows Journal—are  rated as critical, according to Microsoft's Patch Tuesday advisory. Three are rated as important, and the final bulletin has only a moderate rating. Both the IE and Windows Journal bulletins address remote code execution flaws. The important bulletins fixed elevation of privilege flaws in the on-screen keyboard, ancillary function driver, and DirectShow, and the moderate bulletin fixed a denial-of-service bug in the Microsoft service bus.
Microsoft said it had not observed any attacks in the wild targeting any of these flaws.
IE Oh My
Microsoft fixed 24 flaws in Internet Explorer (MS14-037), one publicly disclosed bug […]
This
post
was originally published on
this site
The agency's lawsuit against Amazon mirrors its earlier action against Apple for a similar problem
July 10, 2014
(IDG News Service)
Amazon.com has billed parents for millions of dollars' worth of unauthorized in-app purchases made by their children, the FTC said in a complaint filed Thursday in a U.S. court.
The FTC's lawsuit, filed in U.S. District Court for the Western District of Washington, seeks a court order requiring Amazon.com to refund parents for unauthorized purchases made by their children. The FTC also wants the court to ban the company from billing parents and other account holders for in-app charges without their consent, the agency said in a press release.
Amazon.com keeps 30 percent of all in-app charges, the FTC said in its complaint. The Amazon case "highlights a central tenant" of consumer protection laws in the U.S., that companies should get customer permission before […]
This
post
was originally published on
this site
IDG News Service – Microsoft is continuing its dogfight with Salesforce.com in the customer relationship management software market with a new Dynamics CRM Online cloud service for U.S. government agencies.
The service is expected to be available early next year. It will be compliant with FedRAMP (Federal Risk and Authorization Management Program) security standards, according to an official Microsoft blog post on Wednesday.
Through the new service, "government business users will have 'anytime, anywhere, any device' access to their critical workflows and applications," wrote Curt Kolcun, vice president of the U.S. public sector unit at Microsoft. The service "will also provide citizens with a central online resource to research information about events and services, find community health centers, apply for permits or licenses, pay bills and fines, or log reports and requests," Kolcun added.
In addition, the CRM Online government cloud will be integrated with Microsoft's previously announced Azure and Office 365 […]
This
post
was originally published on
this site
When CEO Satya Nadella said "cloud first," he meant everything, including hybrid enterprise storage.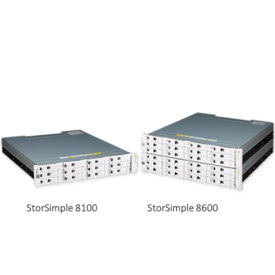 As part of its all-encompassing "Cloud OS" strategy, Microsoft today announced new and updated products and services for its StorSimple hybrid storage solutions, which combine local SAN (storage area network) with cloud storage.
This Cloud OS vision is backed by Microsoft CEO Satya Nadella, who earlier this year said that Redmond's strategy is "cloud-first, mobile-first."
The rollout includes two new storage appliances for the StorSimple 8000 series arrays. The StorSimple 8100 offers 15-40TB of local storage and 200TB of cloud storage. The larger capacity 8600 model, provides 40-100TB of local storage along with 500TB of storage in the cloud.
In addition, Microsoft Azure StorSimple Virtual Appliance is a service that works with the 8000 series appliances and provides access to local data via Azure. Customers can centrally manage these types of hybrid storage […]
This
post
was originally published on
this site
Database 12c, the cloud and big data will be three areas of focus
July 10, 2014
(IDG News Service)
Oracle's massive annual OpenWorld conference isn't happening until late September, but the vendor recently unveiled details of nearly 1,800 sessions planned for the event that on balance paint a comprehensive picture of what its customers, partners and competitors can expect.
Here's a look at some of the highlights.
Database 12c
Oracle's 12c database may have become generally available in June 2013, but most customers haven't been ready to upgrade, preferring to let early adopters deal with any remaining kinks and give Oracle time to provide patches for stability and performance.
Some may be convinced to take the plunge thanks to a new in-memory option for 12c that is set for release this month. While Oracle CEO Larry Ellison has already spent time hyping the product, it's likely […]
This
post
was originally published on
this site
Apple says the feature is set to Off by default and can easily be toggled on and off by users.
Apple; screenshot by CNET
Apple has responded to a state-run Chinese media outlet's claim that the iPhone's Frequent Locations feature is a potential national security threat, saying that data gathered by the feature is stored only on an individual's device and is not scooped up by Apple and that the company has "never worked with any government agency…to create a backdoor" into its products.
The statement follows a national broadcast Friday on China Central Television that said data collected by the Frequent Locations feature could reveal the entire country's economic status and "even state secrets." It's clearly an effort to reassure the government and people of China, a country that Apple CEO Tim Cook has consistently said is his company's second most […]
This
post
was originally published on
this site
Microsoft is still trying to woo users away from XP; and  Apple's next iPhone has a sapphire screen, and the phone after that may have a smart lock; and Google is killing apps and bad site certificates. Read on for more of the week's software news, and to get the latest reviews and features from our editors in your inbox, subscribe to our weekly newsletters.
Microsoft

Yesterday CEO Satya Nadella declared that Microsoft is no longer a "devices and services" company, but rather will reinvent productivity, with a focus on mobile and cloud. He also said that July will be dedicated to discussing Microsoft's future, so look for more news this month. Meanwhile, some things we do know: