Lenovo's newest laptops come with Chrome OS and your choice of touch or non-touch displays.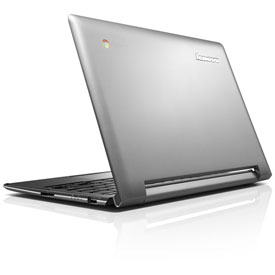 Chromebooks are bigger than ever, and today, Lenovo announced two consumer Chromebooks of its own, the Lenovo N20 and Lenovo N20p. Made for students and budget shoppers, the new laptops offer several options, all for under $400.
The two systems are quite similar, with Intel Celeron processors, 2GB of RAM standard, with the option of upgrading to 4GB, and the same 16GB of storage offered on most competing Chromebooks. Lenovo estimates battery life of up to eight hours. Both systems have a portable design, measuring just 0.7 inches thick and weighing under 3 pounds, but they don't sacrifice comfort, thanks to a full-size keyboard and wide touchpad.
The largest difference between the two, aside from some cosmetic differences, is the N20p's touch screen and 300-degree hinge. The […]
Topping tech headlines on Thursday, researchers at the University of Queensland found a correlation between texting while walking and poor posture.
More than just a distraction, writing or reading text on a cell phone while walking can throw off balance and impede one's ability to walk in a straight line, leading to serious situations like car crashes. According to the study, while your brain is focused on your Twitter feed, your legs move slower and in shorter strides and your arms and elbows lock into your body, forcing greater head movements and decreasing stability.
Meanwhile, Neiman Marcus revealed that about 1.1 million credit and debit cards may have been compromised by hackers who had access to its system for several months last year. The luxury retailer added that approximately 2,400 Visa, MasterCard, and Discover cards have been used fraudulently as a result of the […]
Windows 8 has struggled in the market since its Oct. 2012 debut, and that became crystal clear this weekend when HP started selling Windows 7 devices on its website, which it said were "back by popular demand."
HP is now selling five Windows 7 devices on its website: three desktops and two laptops.
For desktops, the HP Pavilion 500-205t with a 3.4GHz 4th-gen Intel Core i3 and a 1TB hard drive is $479.99. An HP Envy 700-215xt with a 3.4GHz 4th-gen Intel Core i7 and a 1TB hard drive is $699.99, while the HP Envy Phoenix 810-135qe with a 3.4GHz 4th-gen Intel Core i7 and a 2TB hard drive is $999.99.
If you want a laptop, a 15.6-inch HP Pavilion 15t-n200 with a 4th-gen Intel Core i5 and a 750GB hard drive is $599.99 and a 15.6-inch HP Envy 15t-j100 Quad Edition with a 4th-gen Core i7 and 1TB hard drive […]
Review Date
January 16, 2014
ProsAnti-glare screen. Decent battery life for third-generation Intel Core processor. Removable battery. Lots of legacy ports.
Cons Screen a little dull. 1,366 by 768 resolution screen. Some fan noise during heavy computing runs.
Bottom LineThe Dell Latitude E5430 laptop is for veteran users who can't let go of VGA monitors, ExpressCards, and optical discs.
By Joel Santo DomingoIt's funny to think of older technologies as a niche, but most businesses have done away with many of the technologies that were commonplace in the 1990s and early 2000s. The Dell Latitude E5430 laptop is for veteran users who can't let go of VGA monitors, ExpressCards, and optical discs. It is a solid laptop with one of the highest port counts we've seen on a non-desktop PC in a while. Though it works with Dell standard docking stations, it really doesn't […]
On the 30th anniversary of Apple's "1984″ TV spot, we look back at three decades of Mac commercials.
January 22, 2014 03:18pm EST
30 Years After '1984′: A Look Back at Apple's Mac Commercials
George Orwell probably didn't know how much we'd talk about him so many years later, but our first inkling came 30 years ago today when Apple debuted its famous "1984″ TV commercial.
The spot, directed by Ridley Scott, aired during Super Bowl VIII. It opened on a Big Brother-type leader speaking to the sheepish gray masses from a massive screen. A female athlete in full color soon runs in, however, shattering Big Brother's image with a throw of a sledgehammer. "On January 24th Apple Computer will introduce Macintosh. And you'll see why 1984 won't be like '1984,'" the tagline read.
As noted by The Huffington Post, Steve Jobs gave his team one note about what […]