The Droid Ultra is one of Motorola's key franchises in the US.
(Credit: CNET)
Lenovo is reportedly eying Google's Motorola Mobility unit for as much as $3 billion, according to Reuters.
The Chinese company is in the final stages of talks to buy the Google division, which makes the Moto X and Moto G smartphones. The deal also includes the more than 10,000 patents owned by Motorola. An announcement could come as soon as Wednesday, according to the report.
A deal would instantly give Lenovo, which has a thriving smartphone business in China, but few other places, an established global brand. Google, meanwhile, would be able to shed a business that has continually dragged down its profits.
CNET contacted Google, Lenovo and Motorola for comment, and we'll update the story we the companies respond.
If such a deal goes through, it would mark one of the worst investments in Google's history. In 2012, Google completed its acquisition of Motorola Mobility for $12.5 billion. At the time, it was thought that the primary reason for the acquisition was the treasure trove of Motorola patents that would help Google defend it and its partners against Apple.
The patents, however, have proven to be less than effective in guarding against lawsuits against Microsoft, and much of the legal fighting as gone on between Apple and Samsung, with Google only tangentially related. Google and Samsung recently signed their own cross-licensing pact.
Troubled handset business
The handset side of Motorola, however, has always been a stress point between Google and its partners. While Google said it maintained a division between its Android group and the Motorola unit, other vendors have privately expressed irritation that its partner was also a competitor.
Google did legitimately try to revive the once vaunted Motorola brand with unique products, including the Moto X, which was built in the US and could be tweaked with different colors and covers, as well as the ultra-low-cost Moto G, geared towards the emerging markets and lower income consumers looking for a competitive smartphone.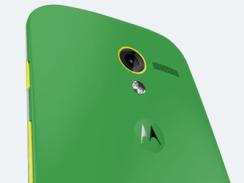 The custom back of the Moto X.
(Credit: Motorola)
Throughout the last year or so, Motorola has continually posted losses. In the last reported quarter, Motorola posted an operating loss of $248 million, wider than the year-earlier period. Google reports its latest results tomorrow.
Still, the move is a surprising one given that Google has been moving toward becoming more of a hardware company. Beyond smartphones, the company is pushing Google Glass and Chromecast. It just purchased Nest for $3.2 billion to get into the smart thermostats and smoke detectors.
"This would be at odds with its recent push to hardware," said NPD analyst Stephen Baker. "Everybody was thinking they would get more hardware oriented. This may signal a reversal."
Gaining a global brand
Lenovo, meanwhile, could conceivably jump start its smartphone ambitions with the purchase of Motorola. As the inventor of the original cellphone, Motorola has a rich legacy and still well-known brand that Lenovo can tap into.
Lenovo actually has a strong smartphone business itself, but it is largely limited to China. Still, the market is big enough that it ranked No. 5 among global smartphone vendors in the fourth quarter, seeing its share rise to 4.7 percent from 4.2 percent a year ago, according to Strategy Analytics.
Lenovo's CEO said in May of 2013 that it would bring its smartphones to the US within a year, but it hasn't updated its timing since then.
By buying Motorola from Google, Lenovo is repeating the same play is successfully pulled off in 2005, when it entered the global PC business by acquiring one from IBM. The deal instantly made Lenovo a major player with PCs, building on the business-centric ThinkPad with the consumer-facing IdeaPad.
The Chinese computer giant is the world's biggest PC vendor, with about 17 percent share of the market, according to IDC.
Lenovo said earlier this month that it will buy IBM's server business for $2.3 billion.
With Motorola, Lenovo could use the company's established track record and contacts in the wireless industry to push its phones around the phone. And it doesn't have to build its own brand from scratch.
"We tend to think of the Chinese companies as rigid, but Lenovo has been adaptable in a lot of brands and geographies," Baker said.