Complete Contact Center is a hosted call center solution that delivers greater agent productivity and flexible call center management, at a fraction of the cost of traditional call center solutions. The Complete Contact Center works with Virtual Office VoIP phone service to give you an easy-to-use yet extremely powerful contact center.
The Fastest, Easiest Way to Deploy a World-Class Contact Center
Low start-up costs, low monthly fees — Implement with no hardware (except phones) to install or manage, just one low monthly fee
Advanced call center features — Empower your team with advanced capabilities like skills-based routing, multimedia queuing, and realtime monitoring and reporting.
Your agents, anywhere — Unite local and remote agents under one virtual call center. All information is routed through our hosted call center application, so you can establish routing rules and agent groups without limiting you to a single physical location.
Get started quickly — Deploying a call center is now fast and easy; our jumpstart program gets you up and running fast.
Change is good — Configure your call center or make changes on the fly, without any assistance from your IT department. If you have a telesales group, a technical support helpdesk, or a customer service department, we have a solution for your business.
How the Complete Contact Center Works
Unlike the first generation of hosted call center offerings that are built on proprietary, legacy, premises-based technology, Complete Contact Center is built from the ground up to leverage the Internet and VoIP technology. The Complete Contact Center offers a complete contact center using superior technology that provides:
An easy-to-use interface accessible from anywhere through a web browser
On-demand provisioning for rapid configuration changes
Patented multimedia high-throughput Interaction Distribution Algorithm
Rich multimedia framework that integrates voice, email, web-chat, and desktop collaboration
Out-of-the-box integration with Salesforce and NetSuite CRM
Easy-to-use API for integration with the leading CRM apps
This makes Complete Contact Center the most flexible technology offering among contact center providers allowing you to start using for all of your customer interaction needs or only for one-point solutions such as email response management. You can also rest assured that your system are hosted in top tier data centers and leverages a fully redundant infrastructure.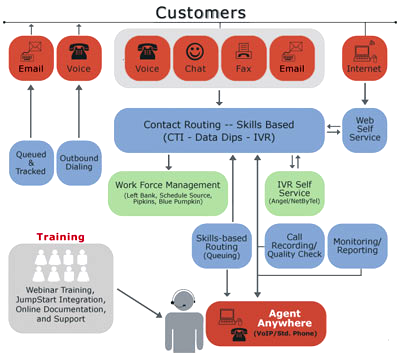 Complete Contact Center Benefits
Route callers to the agent with the right skills — Customize and use the multi-media queue to quickly route customers to the most appropriately skilled agents, reducing the number of times customers are transferred. Callers will never feel "lost" or talk to someone who cannot help them.
Improve your customer service — Customizable reporting functions as well as call monitoring and SLA management allow you to set and consistently meet your service levels for your customers.
Start immediately — Start taking calls in as little as six hours. The hands-on Jumpstart training program gets your contact center up and running quickly. Complete Contact Center requires no hardware, software, or technical team to run the call center.
Rich multimedia framework that integrates voice, email, web-chat, and desktop collaboration
Simplify operations — Changes are simple and easy so can you spend time on customer service, not on call center configuration.
Grows with you — No need to pay for more seats than you need. Start small and grow with scalable solution and the pay-as-you-grow pricing model.
Use a distributed workforce — Employ at-home agents. Use multiple locations. No matter how spread out your workforce is, your contact center functions as seamlessly as a single entity.
Security — Through the use of professional data center facilities, encryption protocols, and world-class security procedures, Complete Call Center provides higher security levels than most traditional on-premise solutions.
The Complete Contact Center featuring a Hosted Call Center Solution are available without any specialized on-premises infrastructure. Agents require nothing more than a web browser and the Virtual Office extension.
All the key features are available to you immediately, and the six-hour Jumpstart training methodology lets you focus on customer service without delay.
Features Includes:
Skills-based routing — Direct your clients to the appropriately skilled agents
Real-time monitoring and reporting — Take the pulse of call center operations on-demand
Voice recording and logging — Robust voice recording and logging capabilities
Historical reporting — Call center metrics at your fingertips
IVR (Interactive Voice Response) — Automate interactions with your clients
CTI (Computer Telephony Integration) — Complete control of all media channels
CRM Integration — Out-of-the-box integration with leading customer relationship management solutions
Netsuite Integration — Toggle seamlessly between NetSuite and the Complete Contact Center
Salesforce Integration — Integrates with Salesforce.com to maximize productivity
Multi-media Management — Telephony, email, or web chat channels, all in one application
Contacts Case — Simple-to-use integrated case management system
FAQ Knowledgebase — Quick answers to your customers' questions