MobileTalk lets smartphone users reduce their international calling rates by as much as 90% — easily. No more special PIN codes to keep track of. No more long access numbers to dial. It's not a calling card or calling plan; it's a mobile phone application that makes international calling from your smartphone less expensive. Much less expensive.
With MobileTalk, you'll never run out of minutes or leave your international call quality up to chance. And, you can view your call history from anywhere in the world. It's easy. It's smart.
Mobilize to Great International Calling Rates

No Monthly Fee — Only pay the low per minute international calling rates.
No data plan required — You don't need a cell phone data plan to use the service. Just download the application and start saving on international calling.
No calling card or pin codes — You don't need a pre-paid calling card or pin code to use the service.
High quality, digital calls—By Mobilizing your calls will be made across a high-quality VoIP network. You won't sacrifice quality or reliability.
How MobileTalk Works
MobileTalk is simple and easy. Three steps to saving up to 90% on international cell phone rates.
To sign up for an MobileTalk account, click here. See complete list of compatible smartphones.
Activate your MobileTalk application. In most cases, your phone will receive a text message* with a link to activate your application.
Start making international calls using the MobileTalk application. Whenever you make an international call originating fron the US (dialing stars with 011 or '+'), the MobileTalk application will automatically route the call to the network and you will save up to 90% or more on your international cell phone calls.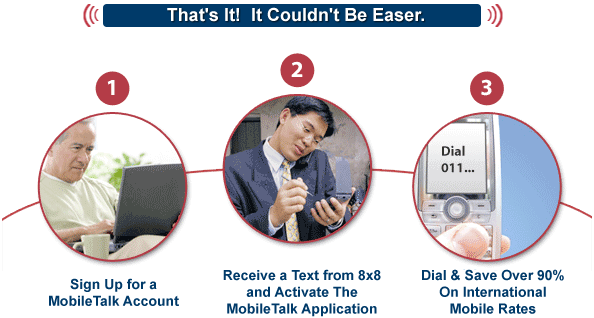 *In some cases, you will receive an email and will need to download the application to your PC, then synchronize your PC with your call phone
MobileTalk Benefits
Save big — MobileTalk can save you up to 90% or more on your International mobile phone rates. Plus, there is no monthly fee. Pay for what you need, when you need it.
Connect with those that matter more often — Call colleagues, friends, and family anytime, anywhere for pennies a minute.
Simple and easy — Download the application and you can direct dial your international numbers without an access number of PIN code.
Features Includes:
Simple features. Simply outrageous savings. Free yourself from those high international calling rates from your cell phone carrier. Your smartphone will thank you and so will your wallet. With MobileTalk, you'll never have to worry about international mobile calling costs again.