Lenovo's newest laptops come with Chrome OS and your choice of touch or non-touch displays.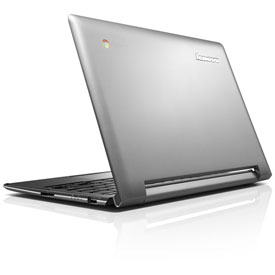 Chromebooks are bigger than ever, and today, Lenovo announced two consumer Chromebooks of its own, the Lenovo N20 and Lenovo N20p. Made for students and budget shoppers, the new laptops offer several options, all for under $400.
The two systems are quite similar, with Intel Celeron processors, 2GB of RAM standard, with the option of upgrading to 4GB, and the same 16GB of storage offered on most competing Chromebooks. Lenovo estimates battery life of up to eight hours. Both systems have a portable design, measuring just 0.7 inches thick and weighing under 3 pounds, but they don't sacrifice comfort, thanks to a full-size keyboard and wide touchpad.
The largest difference between the two, aside from some cosmetic differences, is the N20p's touch screen and 300-degree hinge. The […]

Google's army of Chrome OS devices continues to grow
Are mainstream users ready to live primarily in the cloud? With all the Chrome OS devices coming out (along with the ones that are already available), this year will be a good litmus test for the platform. Joining the ranks of those offering a desktop solution is HP, the world's second largest PC maker, which plans to launch a Chromebox in  the spring. HP's Chromebox will initially debut in the U.S., though the OEM is mum on the price.
For now, HP just wants to let the world know it's willing to look beyond Windows, if that's indeed what customers want. The HP Chromebox will come in a variety of color options — Smoke, Silver, Ocean Turquoise, Snow White, and Twinkle Black — so […]