Lenovo's newest laptops come with Chrome OS and your choice of touch or non-touch displays.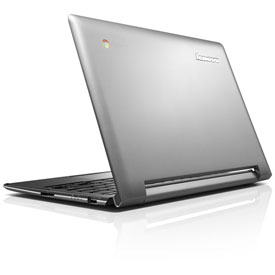 Chromebooks are bigger than ever, and today, Lenovo announced two consumer Chromebooks of its own, the Lenovo N20 and Lenovo N20p. Made for students and budget shoppers, the new laptops offer several options, all for under $400.
The two systems are quite similar, with Intel Celeron processors, 2GB of RAM standard, with the option of upgrading to 4GB, and the same 16GB of storage offered on most competing Chromebooks. Lenovo estimates battery life of up to eight hours. Both systems have a portable design, measuring just 0.7 inches thick and weighing under 3 pounds, but they don't sacrifice comfort, thanks to a full-size keyboard and wide touchpad.
The largest difference between the two, aside from some cosmetic differences, is the N20p's touch screen and 300-degree hinge. The […]
VMware and Google have extended their partnership in an effort to bring Microsoft Windows to Google Chromebooks.
Redmond's applications, data, and desktops are now available on the Google-based laptops—an attempt to modernize corporate desktops for what VMware called "the Mobile Cloud Era."
The new service will provide secure cloud access to Windows features via VMware's Desktop as a Service (DaaS) platform.
"Chromebooks are designed for the way people use computers today and are a secure, easy, and cost-effective solution to help organizations embrace a new way of doing business," Amit Singh, president of Google Enterprise said, adding that the laptops can save businesses about $5,000 per computer.
With the option of a Virtual Desktop Infrastructure (VDI) or Remote Desktop Services (RDS) connection, users can access Windows programs using VMware's Blast HTML5 technology from a Web-based application catalog on their Chromebook.
The DaaS program enables users to centralize other desktop environments and […]